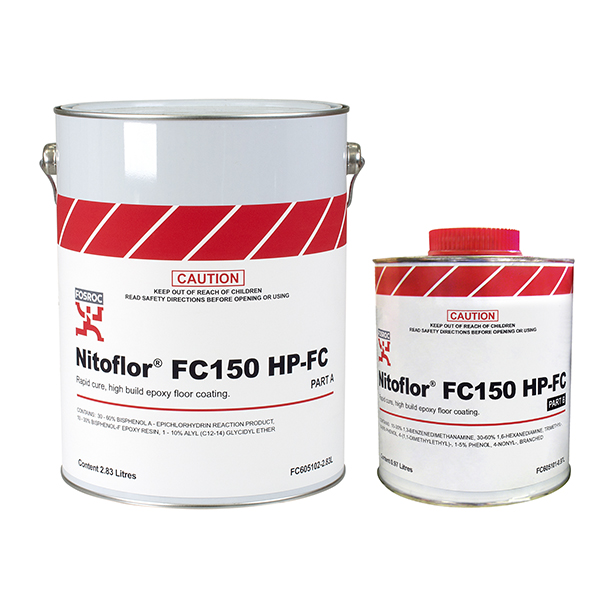 Nitoflor FC150 HP-FC
Solvent free, high build epoxy floor coating. Highly resistant to chemical attack and the action of forklift/commercial type traffic. Nitoflor Anti-Slip Grains can be added to achieve defined slip resistance ratings. Non-taint during and after application. Produces a satin finish. Tintable with Nitoflor Colour Pots.
NOTE: this new formulation is NOT compatible with the previous base & hardener formulation.
Typical Applications
Food and chemical industries
Hospitals
Schools
Kitchens
High traffic applications
Advantages
Long lasting and easily maintained
Good resistance to many industrial chemicals
Highly resistant to the action of forklift vehicles and commercial type traffic
Slip resistance improves safety for plant and personnel
Provides an attractive satin finish
Can be used on horizontal and vertical surfaces, up to 1m from the floor level
Available in a wide range of colours including 11 Australian standard colours
Complies with BCA for building material fire hazard properties specification C1.10a for critical radiant flux and smoke development rate values
Abrasion resistance : Medium
Chemical resistance : Medium - High
Foot traffic @ 20°C : 6 hours
Full cure @ 20°C : 4 days
Physical or chemical change : 21 g/l
Service temperature range : 55°C
Vehicle traffic @ 20°C : 12 hours
Overview
Typical Applications
Food and chemical industries
Hospitals
Schools
Kitchens
High traffic applications
Advantages
Long lasting and easily maintained
Good resistance to many industrial chemicals
Highly resistant to the action of forklift vehicles and commercial type traffic
Slip resistance improves safety for plant and personnel
Provides an attractive satin finish
Can be used on horizontal and vertical surfaces, up to 1m from the floor level
Available in a wide range of colours including 11 Australian standard colours
Complies with BCA for building material fire hazard properties specification C1.10a for critical radiant flux and smoke development rate values
Key Properties
Abrasion resistance : Medium
Chemical resistance : Medium - High
Foot traffic @ 20°C : 6 hours
Full cure @ 20°C : 4 days
Physical or chemical change : 21 g/l
Service temperature range : 55°C
Vehicle traffic @ 20°C : 12 hours
Test Certificates
Spec Clause
Detail Drawing
Fact Sheet
Brochures
Bulletins