Nitoflor PA 8L Pack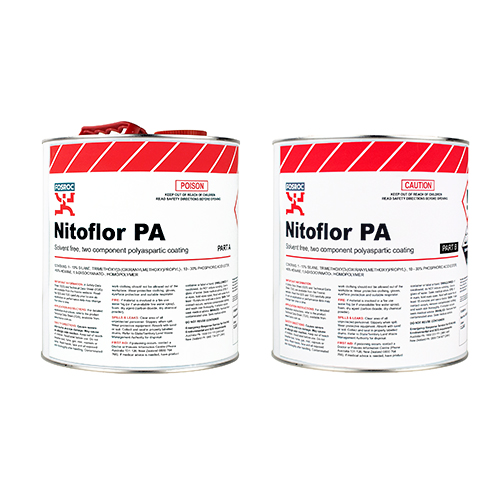 Nitoflor PA
Nitoflor PA is a two-component solvent-free polyaspartic coating. Nitoflor PA is UV and abrasion resistant used as a top coat for resin floor systems or as a standalone coating over correctly prepared concrete surfaces.
Nitoflor PA is available in a range of 8 colours, including Clear. Specialty colours are also available on request.
Made-to-Order (MTO) colours, apart from Special Colour, need to be ordered by contacting Customer Service or your Fosroc ANZ representative. These must be ordered in multiples of 16; Lead time 14 days.
The MOQ for the Special Colour Part B is 32 units for the 4L, and 6 units for the 20L; Lead time is 21 days from colour approval.
Typical Applications
Chemical industry
Hospitals
Schools
Kitchens
High traffic applications
Advantages
Abrasion resistant
UV resistant
Chemical resistant
Solvent free
Convenient 1:1 mix ratio (by volume)
Fast cure
Abrasion resistance : High
Chemical resistance : Medium
Foot traffic @ 20°C : 2-2.5 hours
Full cure @ 20°C : 24 hours
Physical or chemical change : 79 g/l
Service temperature range : <50°C
Vehicle traffic @ 20°C : 24 hours
Overview
Typical Applications
Chemical industry
Hospitals
Schools
Kitchens
High traffic applications
Advantages
Abrasion resistant
UV resistant
Chemical resistant
Solvent free
Convenient 1:1 mix ratio (by volume)
Fast cure
Key Properties
Abrasion resistance : High
Chemical resistance : Medium
Foot traffic @ 20°C : 2-2.5 hours
Full cure @ 20°C : 24 hours
Physical or chemical change : 79 g/l
Service temperature range : <50°C
Vehicle traffic @ 20°C : 24 hours
Test Certificates
Application Guides
Spec Clause
Case Studies
Fact Sheet
Brochures